Five Hot Tips for Alfresco Dining
The perfect alfresco dining experience would likely include a perfect outdoor kitchen where the transition from cooktop to tabletop is only a matter of inches. We here at Creative Living and our sister company,
Artisan Outdoor Kitchens,
can literally design and build a thoroughly modern outdoor kitchen in any configuration, color, style or setting. We've listed five hot tips to spark your imagination and encourage you take your next meal outdoors, where everything tastes better.
#1 – Build a Perfect Outdoor Kitchen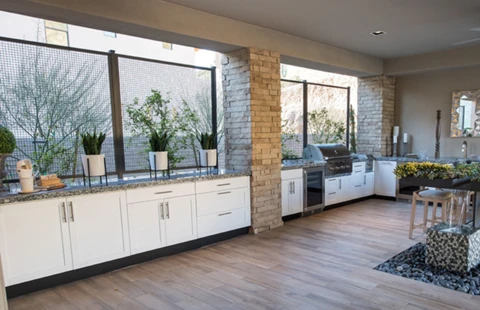 If you don't happen to have the perfect outdoor kitchen, fret not, as alfresco dining is available to everyone, everywhere. Below are a few more tips for creating a meal to remember with a handful of modest materials and a minimum amount of effort.
 #2 – Set Up a Dining Surface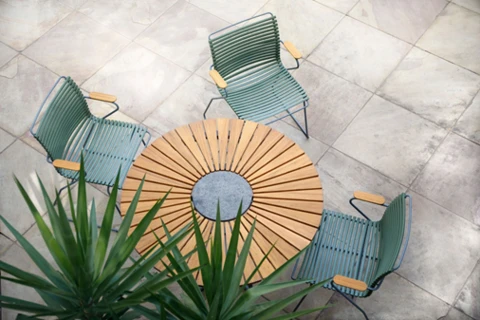 An outdoor dining surface is important and can be as prominent as this bamboo and granite table by Houe or as simple as a wooden crate set with some vintage tableware.
#3 – Scatter Linens to Soften the Setting
Linen napkins in assorted colors, cuttings from the landscape and twine set a rustic and inviting table.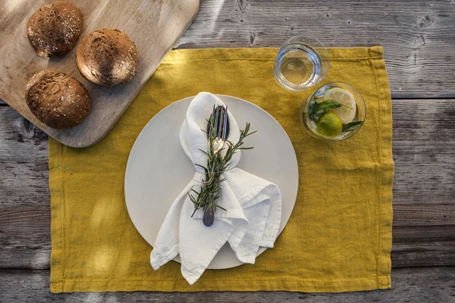 Harpers Bazaar
#4 – Use Unbreakable Dishware
Faux Sea Glass Serving Tray by Terrain    Melamine Dinnerware by Aidio
#5 – Include Light and Blankets
Hanging lights, votive candles or solar powered lanterns all add to the ambience at your outdoor dining table. Blankets on each chair or readily available will prolong the pleasure of your outdoor dining when the air gets nippy.