At Artisan Outdoor Kitchens by Creative Living, we love us some authentic oven-fired pizza alfresco on the patio. Our suggestion: Skip the pile of pizza boxes and whip up a Neapolitan feast yourself. Here are two of our favorite outdoor pizza ovens to get the party started.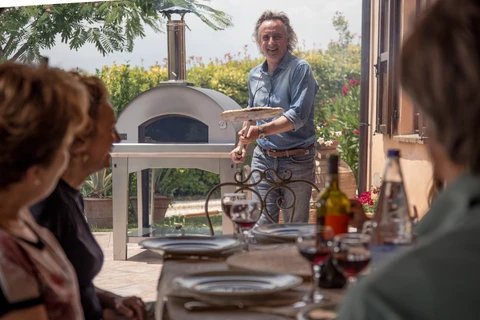 The Pioneer: Fontana
If there were ever a mothership of authentic Italian backyard pizza, Fontana Forni is it. For more than 40 years, the Fontana Forni artisans have been designing and constructing traditional residential pizza ovens in Italy and bringing their collection—both standalone and countertop, fueled by either wood or gas—to the most discerning of at-home pizza connoisseurs.
Handmade by artisans in Naples with mineral-infused alluvial clay, these pizza stones are wood-fired in a kiln to allow for ultimate heat retention and moisture absorption. Translation: If you want to wow your guests with the perfect Neapolitan pizza, this stone is a must-have pizza oven companion.
Did you know there are international standards for how to craft true Neapolitan pizza? The stone temperature must be between 806°F and 896°F. Thanks to old-world construction using materials endemic to the region, the Saputo stone lets you cook a pizza at 850°F for 60 to 90 seconds without burning the bottom.
When you've got your pizza game down, visit Fontana's "Recipes" section online for more mouth-watering dishes you can make with your pizza oven—think Crostini Salsiccia e Crescenza, Pizzelle, and Tuscan Venison Roast.
The Do-It-All: Alfresco
For more than 20 years, Alfresco has been designing the most luxurious open-air restaurant-inspired kitchen appliances on the market. That collection includes the Artisan Pizza Oven, a sleek, stainless steel workhorse of a pizza cooker that can also bake, roast, and iron-skillet sear thanks to versatile temperature controls and smart design that distributes heat evenly.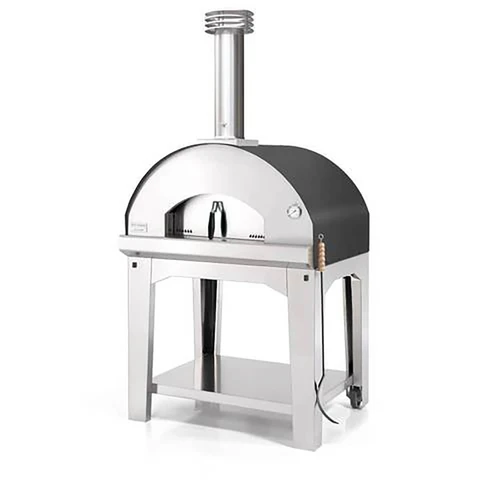 Could there be anything better than a mobile pizza oven? Snag one of these carts to help manage your outdoor setup when counter space is limited—no full kitchen required.
The Artisan Pizza Oven preheats up to 800 degrees in just 15 minutes for on-the-fly Neopolitan goodness.
Want to make your pizza oven a focal point of your outdoor kitchen? Check out Alfresco's "Concepts Library" page for design ideas and detailed renderings to help you plan.